We have all our prints made by a Professional Imaging Company. They use: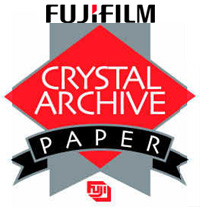 Professional archival colour paper with a Matt finish.
They are Photographic C-type Prints.
Photographic C-type prints are made by exposing light onto paper which is then developed and washed using traditional photographic techniques. Exposed by high resolution digital printers; Durst Theta (30″ Lambda) and ZBE Chromira, the process offers the quality and archival properties of a photographic print with the creativity and consistency that can only be achieved from a digital process.
All prints will be embossed with our Estate stamp